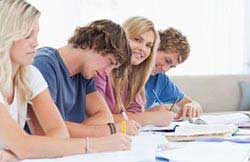 If you want to arrive in the Polish higher education institution, then at first it is necessary to choose reliable agency.
Agencies assume the solution of many questions:
1) select individually for future student of the offer from higher education institutions of Poland with which they signed cooperation agreements;
2) help to collect the documents necessary for receipt in the chosen higher educational institution;
3) make recommendations about a choice of a language course on which it is possible well, and the main thing in time (before receipt) to learn Polish;
4) organize educational round for entrants and their parents, that they could estimate quality of teaching in the Polish higher education institution, look at hostels, on a standard of living of students etc.;
5) carry out interviews in Kiev or other regional centers of Ukraine on the basis of which higher education institutions make the decision on transfer of the entrant, on what official confirmation comes.
For example, similar services are offered by the EUROSTUDY company or the Ukrainian-Polish Center of Formation of "UniverPL". Their main offices are in Kiev, but representations are and in other big cities of Ukraine. Such companies far not unique therefore you always have a choice.
After the agency is chosen, it is possible to register in Polish courses.
Where to go to study Polish?
We chose language schools in the different cities of Ukraine that you could track the general tendencies – training cost, duration, number of occupations in a week etc.
1. Polish and culture center in Kiev Slavic Languages Center.
There are standard, individual and intensive courses of Polish. Cost of a standard course (from scratch to level А1) – 1999 UAH. Duration of training – 3,5 months.
2. "ALPHABET SV_TA" Center of Foreign Languages of Lesya Badzay (Lviv).
Training cost (cost of training materials enters) – 800 UAH. for 20 intensive occupations by Polish.
3. Language school "OLA" (Khmelnytsky).
Cost of group training – from 250 UAH. for 8 occupations in a month. The price depends on a number of people in group. Cost of individual occupations – 750 UAH. for 8 occupations in a month.
4. Courses of foreign languages "Language Planet" (Kharkov).
Here it is possible to register in the general course of Polish. Training cost – 380 грн. / month (occupations – 2 times a week).
5. Center of foreign languages "London" (Chernigov).
Training cost on Polish courses – 320 UAH. in a month (8 occupations). The price of one occupation – 40 UAH.
6. School of foreign languages "WizarD" (Vinnytsia).
This year there is a set on Polish course for teenagers and adults. Training cost – from 350 UAH. in a month.
7. Language school "Albion Intenational" (Donetsk).
The course "Krok po kroku" for training in Poland. Cost – from 550 UAH. in a month.
8. Courses of foreign languages "Esperanto" (Sumy).
The course is called «Polish for adults». Training cost – 350 UAH. in a month (8 occupations).
The prices for training are specified according to information which is at present placed on sites of the training centers. Therefore if you were interested by this or that course, for specification of conditions of training address to administration of training centers.