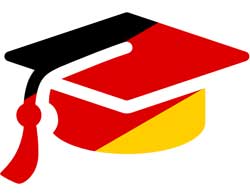 Language course abroad differs from courses of foreign languages in Ukraine.
Abroad is a business to which universities and schools approach very seriously and responsibly therefore training try to turn not into reading texts on the textbook.
On the contrary, try to organize such courses where it is possible to receive unique and useful experience.
The intensive occupations, complete immersion on Wednesday, the saturated cultural program and continuous communication in studied language are offered pupils. In the program of a course campaigns can be entered in cafe and small restaurants, obligatory visit of parties and excursion.
After end of courses testing or examination, and then – assignment of a certain degree (depending on level of the received knowledge) is supposed.
In a month to pupils try to give that material which is studied usually by students during a semester. Therefore in Germany it is possible to recommend a language course to those who likes to receive fast results and it is ready to devote a lot of time to language studying.
Such интенсив happens to more useful foreign students who already attended similar courses during a semester and noticed that training passes inertly, and courses help to support available level of language knowledge only.
The prices for courses in Germany at different higher education institutions can differ. Usually cost varies within 600-1000 euros a month (without considering personal expenses).
In what cases it is recommended to study German abroad?
1. If you want to get education in Germany, but are not sure that it is enough your knowledge to communicate freely. In this case courses will help you to check, as far as you know language, and at the same time to look, how easily you can adapt for life in Germany.
Additional plus is as follows: after passing of some programs it is possible to pass examination and to receive the certificate which is required for receipt in higher education institution.
2. If you did not ripen yet for receipt in German higher education institution, but it would be desirable to live in other country, to steep on other Wednesday.
Why courses? The minimum term of training – month. During this time it is possible to improve the language skills, to get friends and to be defined, you want to study/work in Germany or not.
3. If your profession does not assume continuous communication in German, but for employment in Germany knowledge of German (so happens if you get job as the programmer, the designer, etc.) are all the same necessary.
To get new education in that case usually it is not necessary, but a language course in Germany is an ideal option to tighten the German and to look at the country.