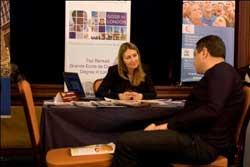 On February 11 and 12 in the cities of Kiev and Zaporozhye the eighth international exhibition «Education abroad – UIEF 2012» – Ukrainian International Educational Fair 2012 will take place.
Fair ground:
On February 11, 2012
Kiev, hotel "Prime minister Palats", Shevchenk Boulevard 5-7
Exhibition operating time: 11:00-17:00
On February 12, 2012
Zaporozhye, Inturist hotel,
Exhibition operating time: 10:00-17:00
The annual international exhibition «Education abroad – UIEF 2012» is urged to help to orient to potential students in a flow of information and to receive answers to the questions "first-hand" – directly from heads of foreign educational institutions. The exhibition gives opportunity to visitors to choose not only educational institution and the training program, but to plan the future – to estimate advantages of training and the subsequent creation of career in this or that country (quality of life, social protection, employment and integration prospects).
About 30 educational institutions take part in an exhibition from more than 8 countries of the world. UIEF invites to participation the best educational institutions in the categories:
Private schools boards: programs of receiving secondary education, summer vacation programs, the academic year at high school abroad.
Bosworth Independent College, Great Britain
Oswestry School, Great Britain
Cambridge Tutors College, Great Britain
SABIS International School, Great Britain
Universities of hotel and restaurant management: бакалаврат, a magistracy in the sphere of hotel, restaurant business, ивент management, management of the sphere of sports and tourism.
Glion Institute of Higher Education, Switzerland
Les Roches International School of Hotel Management, Switzerland
Les Roches International School of Hotel Management, Marbella, Spain
Les Roches Jin Jiang Hotel Management School, China
Blue Mountains International Hotel Management School, Australia
Kendall College, USA
Preparatory programs on the basis of colleges: preparation for receipt in university on programs of the bachelor and the master, the academic course of English for students, courses of preparation for examination of IELTS, TOEFL.
Bellerbys College, Great Britain
INTO University Partnerships, Great Britain, USA
Cambridge Education Group, Great Britain
Education First, International
Griffith College Dublin, Ireland
Programs of learning of foreign language, language schools, language centers
Education First, International
Embassy CES
MW Summer School
Higher educational institutions:
Thompson Rivers University, Canada
Griffith College Dublin, Ireland
School business:
Montreux School of Business, Switzerland
Preparatory programs on the basis of universities: Foundation, Pre-Master's, Diploma courses: University of Stirling, Hariot-Watt University, Lancaster University, University of Huddersfield, University of Lincoln, Keele University, Liverpool John Moores University, University of Leicester, Kingston University, University of Surrey, University of Sussex, Wales International Study Centre, University College Dublin, Trinity College Dublin, City University London, Glasgow Caledonian University, Queen's University Belfast, Universty of East Anglia, University of Exeter, Univerity of Manchester, University of Newcastle, University of South Florida.
State organizations
Study in Turkey, Turkey
The exhibition «Education abroad – UIEF 2012» is carried out with support of the international and Ukrainian student's organizations: Osvita.ua, DAAD, American Council, British Councils, MBA Strategy, StudNews, UniStudy, Student Recruitment Media, SuperJob, TOP 9, Campus France.
Official organizer of an exhibition: Domar Travel Education – advice center concerning training abroad.
Domar Travel Education
Voloshskaya St. 24, office 1, Kiev
Domar Travel & Tour Trance
Mira St. 10, office 20, Zaporozhye
You can receive additional information, having called organizers of an exhibition: (044) 425-40-45b or e-mail: olesia@dteducation.com