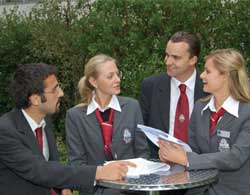 For the young man who only begins the labor activity to get education which will provide employment in global business structures, – almost a limit of dreams.
This aspiration is based on what work for 70-80 % defines a further course of life of the person: whether it will be sure in tomorrow, in what measure it can develop the skills and abilities, whether it will promote on a career ladder, and eventually, whether it will be happy.
Whether there can begin students of higher education institutions of a hotel and restaurant economy a career way, for example, with Ritz Paris Hotel or Movenpick Hotel? Why also is not present!
Thanks to close cooperation of Swiss Education Group schools (Switzerland) with leaders of the industry employment in the most prestigious world hotels, restaurants, travel agencies, ivent-agencies and the subsequent entry into top management turns from dream into reality.
To start to build career and already "acquire" useful communications students of Swiss Education Group can from the first course thanks to the International forum of employers (IRF) which passes annually in March and October.
On it recruiters of known hotels, the resort centers, airlines and travel agencies gather. In November, 2012 180 recruiters participated in a forum, in October 2013 – already 200. For young people it is really extraordinary possibility to come into contacts to employers already at a training stage.
Interview with HR managers of leading hotels provides transparency of a choice of a place of work and sure career start. Existence of professional experience which they got on training becomes a bargaining chip of graduates.
Not less than 50 % from all educational process are allocated for the last. Students at such giants of the sphere of hospitality, as Fairmont Hotels & Resorts, Movenpick Hotels, Vienna International Hotels, Four Seasons Hotels and other thus train.
Students of Swiss Education Group undergo practical training not only in Switzerland and other European countries, but also in America and in the Middle East. Let's remind that SEG – the largest group of specialized schools of Switzerland which includes leading world higher education institutions in the sphere of the international hospitality.
More than 30 years training students on the advanced standards, schools of group impart them professional flexibility and ability of instant occurrence into the daily business environment – that eminent employers today demand: Hilton, Hyatt, Mariott, Shangri-La and other.
Schools and SEG institutes offer programs of a bachelor degree (BA) in the sphere of the organization of hotel services and services, ivent-management, tourism, cookery, and also provide degrees of the bachelor of business administration (BBA) in such directions, as management of the hotel and restaurant and resort industry.
Also here programs of postdegree education are available. As the main feature of training its practical orientation acts. Students live and study in the hotels adapted under schools, and the academic semester alternates with a semester of paid training (to 2500 шв. фр. in a month). Training language – English, but a number of specialties provides also intensive studying of German and French.
The exclusive representative of Swiss Education Group in Ukraine – the international educational agency DEC education, unique in Ukraine and Moldova the winner of the main branch award "Leading agency of Eastern Europe" (2008). Also it is the unique company which is recognized by leading educational providers of the world and 5 years in a row enters into the five of the best educational agencies of Eastern Europe.
On all questions of receipt and study in SEG, please, address:
– by phone (044) 390-7624;
– having come to office to the address: Podvysotskogo St., 16.