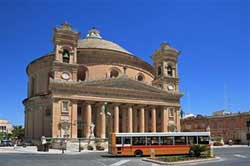 Studying of languages abroad – long ago not exotic. The countries in which it is possible to seize English, a set. Independently among them there is Malta – the small island in the Mediterranean Sea. What in it special?
Malta – option for those who wants to combine study and rest. Complete immersion on language Wednesday – 24 hours per day, 7 days in a week! Mass of the bright impressions, new friends from the different countries … Vacation to forget which at you precisely it will not turn out…
Malta … This name associates with excellent rest, the truth? Azure Mediterranean Sea, kilometers of magnificent beaches, set of discos and night clubs … It appears, on Malta it is possible not only to have a rest perfectly, but also to improve the English!
Two weeks are much or a little? Looking for what, you will tell – and will be absolutely right. It appears, two weeks can be saturated impressions. And to learn language during this time – it is quite real. Provided that these two weeks pass on Malta!
In August of this year I spent two unforgettable weeks on Malta, having ordered a course at language school The Chamber College (of Gzir). Malta is something special! So, my supervision …
Learn at school, learn at school, learn at school …
The Chamber College is near of Slim and near to Pachevill – the center of all entertaining institutions of Malta. The school offers some options of accommodation: in the Maltese family, in the student's residence or in apartments.
I chose option of residence in the student's residence Sundawn Cort. It consists of ten small cases with restaurant and two pools. The residence near to school is located therefore to use public transport there is no need. To school – 5-10 minutes a walking step.
Big plus for those who not so well knows English – at school is the Russian-speaking coordinator. He met me at the airport, helped to take place with the residence and conducted tour on school.
Before the beginning I was tested on knowledge of English by results of which me defined in a class corresponding to level of language. We got acquainted at once and told about myself in English – who as a smog. I was struck by very warm, almost family atmosphere at school and the relations of teachers and pupils. At such quantity of smiles since morning you are simply lost. At first it is not absolutely clear, as strangers are absolutely sincerely glad you to see. Then it becomes also your way of life …
In a class except me there were 4 pupils from the different countries: Spain, Russia, China and Libya. At once there was very friendly atmosphere, and we started to "grind away at the studies" together.
To speak fluent English? Easily!
At school it is difficult to call occupations lessons. It is 3 hours of easy pleasant communication in English on any subjects rather! During occupations it is possible not only to improve knowledge of language, but also to learn more about the countries from which there arrived other students. After all the main colloquial practice – stories about customs and traditions of the country.
Occupations take place in the first half of day, usually – from 9 o'clock. It is possible to devote all rest of the time to acquaintance to this fantastic island, a name, to which – Malta! During rest imperceptibly you join international student's brotherhood. And it is unimportant, what language for the student native!
On Malta all are united by one language – English! And training to English on Malta proceeds 24 hours per day! Here such study!
In a class, at home, in cafe, at the pool, on parties students gradually start to communicate with each other only in English and fix a material of lessons. And some even start to have dreams in English …
The summer is a small life …
Now – about carrying out leisure on Malta. After all after classes there is more so many free time! Than it to fill? For fans of beach rest, Malta – that is necessary! The Maltese coast is kilometers of beaches, both stony, and sandy. There is a set of the equipped beaches with attractions, aquaparks, cafe with tasty cocktails and ice-cream where always it is possible to spend time perfectly as, and with children. Stony beaches are almost desert, and here sandy usually are in demand.
In the days off the coast is especially populous, beaches are filled both vacationers, and Maltese. The Mediterranean Sea влюбляет in itself at first sight. It never happens the whole day of the same color. On the sea the snow-white yachts, from far away seeming the absolutely toy slide. A decline here – a bewitching show which needs to be seen! Words not to transfer this beauty! And still sea always warm (about 25 degrees). In the afternoon bathing in it refreshes (after all air temperature – about 35 degrees!), and at night the sea – as pair milk.
It would be desirable to notice that if you badly transfer hot climate, to go to Malta better in the autumn. The sea still warm, and air temperature decreases approximately to 28 degrees.
Treasure island
You prefer to beach rest the informative? Malta will reveal before you the greatest secrets of the history! The choice of excursions is huge. To order them it is possible directly at school or on Slima Embankment. It is possible to sit down in the bus and to go to travel independently. To see all Maltese sights are a business at all one month. After all Malta – a museum open-air. Around the world hardly there will be a place where in the small territory so many historical monuments and the ancient cities are collected!
I advise to visit Mdina – the most ancient city with a large quantity of museums. In it and now there live in the basic descendants of ancient Maltese childbirth. Here you will try the remarkable dishes which recipes long since pass from father to son.
Excursions to Valetteis – the capital of Malta, seaside villages of masters and fishermen, on glass-blowing plant are offered. Does not leave you indifferent and a trip on Gozo's island. A holy site That Pinu where the Pope, Gozo's capital – Victoria prayed, Calypso cave where on Calypso legend the Odyssey held, a set of grottoes … Well and those who dreams visit Italy can to devote the day off to travel to Sicily. On the sea to it only 70 km. Also it is only a little bit of that, than Malta is rich. You by all means will want to return here still! At least for some weeks …
Reverse side of the moon
In the evening on Malta other life begins absolutely. The heat falls down, streets, cafe and restaurants are gradually filled. On the embankment and on very narrow small streets of the cities you can choose the suitable from a large quantity of restaurants. Unfortunately, not everywhere prepare it is tasty. But you will surely find a method of tests where it will want to come back again and again. If you love seafood, exactly here you will try them much, as a part of the most unusual dishes. The dinner costs on the average 15-20 euros for one person.
Leisure of students organizes both school, and students independently. The most known club region of Malta – Pachevill where various clubs and discos are located. Everything unites them one – free entrance and low cost of drinks. All night long you can move on various clubs. In 4 mornings in Pachevill on the street as much people, as in the subway in rush hour. Very low crime rate allows to feel quietly and comfortably even at night.
The school organizes various parties for students. Here it is possible to get acquainted with other students, to dance, play billiards or a darts. Then all together move to night club. The special attention is deserve
d by a party of "Bordparty" which passes onboard the ship.
Discos come to an end about six o'clock in the morning. To time for a dream remains very little. But do not worry, forces will suffice on everything! On Malta several hours of a dream for fine health quite suffice!
To tell about Malta it is possible long. But words is only words. To understand that such Malta, she needs to be seen the eyes! And at first sight to fall in love with this island in the Mediterranean Sea! Malta waits for you!
www.chemodan.com.ua