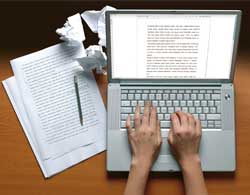 For receipt in foreign university the motivational letter is required.
How it to write?
About what to write?
On what to make accents?
Here some recommendations about structure of the motivational letter
1. Introduction. 1-2 offers which essence is reduced to that you want to arrive to study in this concrete higher education institution.
2. Information on the one who you are? It not the summary therefore it is necessary to write only 2-3 offers.
3. Why you chose this program (the country, university and faculty)? Explain, how this program is entered in your background.
4. On the basis of the history (the training, experience) write, than this program will be useful to you.
5. Write, why you really are suitable for training according to this program?
6. Write, you can bring what contribution in the program, what you can give to the group? Abroad training at university is a mutually advantageous process, instead of game in one gate. Speech does not go that you pay money. You impart experience the knowledge and with the teacher and the group.
Something from your experience by it will be useful. If you do not know what to write, look for interview to representatives of universities and business schools how they select candidates for this or that program. For example, on the MBA program.
Usually, when questionnaires of those who as a whole approaches by criteria of education and experience are selected, the commission gets a grasp of each questionnaire and the letter to find those who, in their opinion, will give to group, the teacher, the program more than others.
7. Describe, than you want to be engaged after completion of training according to the program. Show, than it will be useful to you further.
8. Thank the commission for attention to your letter, for attention to you. Add that you will respond to their message if there will be additional questions.
General recommendations
1. Do not write florid, writing language. Write simply and clearly.
2. Remember about Storytelling. Tell story so that behind the text it was possible to consider your versatile personality.
3. Write not only about the facts, but also about the reasons.
4. If it is possible, direct the letter to the specific person.
5. Find room for information on one sheet A4. Adhere to the general rules of business correspondence.
How to organize writing of the motivational letter
1. Prepare diplomas, certificates, the portfolio, the previous summaries and draft copies, and also other data which will help you will be adjusted on the necessary working harmony and not to waste time on searches when it will be necessary to tell about itself.
2. Write everything that comes to mind, even scraps of thoughts.
3. Look at structure of the motivational letter and place offers one after another. Add missing links and sheaves.
4. Delete everything that does not treat the program and receipt in this concrete foreign higher education institution.
5. Re-read and reduce the text once again.
6. Look at all compound sentences and professional terminology. Replace all fashionable words, grandiloquent phrases, stamps and kantselyarizm with living, simple words.
7. Read the text once again. Try instead of the specific program and higher education institution to substitute any other. If the sense did not exchange it it is bad. Add more exact facts, justifications, a reality.
8. Format the motivational letter according to the training direction (classics, business, a creative, etc.). Do not overdo with a creative even if it is a question of creative specialty.
9. Re-read that not less than 10 times turned out. Modify once again each phrase, expression. The text should turn out simple, logical, consecutive. Phrases should be exact, exclude probability of their different interpretation and understanding.
10. Check a punctuation, grammar and spelling.
11. Postpone the text for some days, and then re-read again. Modify. Once again check on existence of mistakes (including stylistic).
12. Collect other documents and send the letter in higher education institution together with them.