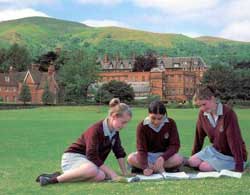 To leave on training to England it is not enough ways.
It only seems that on demand "study" on the Internet it is possible to find a large number of information in Great Britain.
Actually among 454 000 sites which appear in Google delivery, there are particles of useful information. But there are a lot of councils how to look for school, how to choose educational agency etc.
Besides, there are many intermediaries who offer doubtful services for very big money.
Therefore it is better to look for agencies which assume the organizational moments and help to arrive. After all training in Great Britain the paid. Year of training manages not less than 35000 US dollars. Additional expenses – about 10 000 more US dollars. It is necessary to hand over tests on mathematics and on English. At some schools still hand over the test logically.
What cares assume agencies, except search of suitable schools in Great Britain?
The reliable companies assume all organizational moments, since examinations and finishing visa opening.
In agencies which not offer the first year training in England, always it is possible to see a rating of all schools to choose suitable option.
In the company not only give reason, but also will advise, when it is better to arrive in school abroad. For example, it is sometimes better to file documents to English school when to the child of 14-15 years. Because to arrive at once in university it is more difficult. Less chances. And at school of Great Britain of the teacher will prepare the pupil for receipt.
And procedure will be much easier, psychologically to arrive after school in higher education institution too simpler. In agency it is possible to pass test and interview. First of all it is necessary to hand over tests for knowledge of English. For receipt it is important to know also mathematics. During testing the staff of agency watches, how it passes not to allow violations.
What companies of Kiev assist those who wants to arrive in schools and higher education institutions of Great Britain?
The Kolizey company with the STUDENTLAND trademark
Offers the preparatory program for school students which want to get secondary education in Great Britain and then to enter the university, and also for the young people who have got secondary education in Ukraine and dreaming to arrive in universities of Great Britain. It is possible to arrive in Yale College in the city of Reksem (Wales).
The higher education is offered to be received at University of Northeast Wales of Glindur's name which in 2008 received the status of the independent.
Agency by training abroad "DEC education"
They have on August 17 and 31 a welcome day. So it is possible to find out about everything personally.
The agency helps to get secondary education abroad in the international colleges:
– Abbey DLD Group of Colleges (Birmingham, Cambridge, London, Manchester) for children from 14 years. The price from 15250 ф. the Art. in a year.
– Bloxham School (Blokskhem) for age of 11-18 years, the price from 8950 ф. the Art. for a trimester.
– Cambridge Centre for Sixth-form Studies (Cambridge) for age of 15-21 years, from 5510 ф. St.
– Cambridge Tutors College (London) for age of 15-19 years, cost 18360 ф. St.
– dOverbroecks College (Oxford) for age of 14-18 years, cost from 28770 ф. St.
– Ellesmere College (Elsmer) for age of 7-18 years, cost from 3738 ф. the Art. for a semester.
– Fettes College (Edinburgh) for age of 7-18 years, the sum from 11955 ф. St.
– Newbury Hall (Nyyuberi) for age of 14-17 years, cost 4680 ф. the Art. in 6 weeks.
– Padworth College (Reading) for age of 13-19 years, cost from 20850 ф. St.
– Sedbergh School (Sedberg) for age of 13-18 years (Sedbergh School), 4–13 years (Sedbergh Junior School), the sum from 6090 ф. St.
– The Royal Hospital School (Holbrooke) for age of 11-18 years, from 6655 ф. St. for a trimester.
– Trent College (Long Iton) for age of 11-18 years, the price from 6340 ф. St.
Children can arrange also in private schools: DLD College London, Clifton College, Bedford School, Brighton College and other.
For youth the higher education in Great Britain in the following higher education institutions is offered:
– Southern England: Bournemouth University, University of Reading иUniversity of Southampton.
– London: Brunel University; City University London; Istituto Marangoni; London Academy of Management Sciences (LAMS); London School of Business and Finance (LSBF); Queen Mary, University of London; Schiller International University; University College London; University of the Arts London.
– Scotland: Glasgow Caledonian University; Heriot-Watt University; Tech Music Schools; University of Glasgow; University of St Andrews.
– Northern England: Leeds Metropolitan University, Nottingham Trent University.
– Central England: Middlesex University.
– Northern Inrlandiya: Queen's University Belfast.
– Southwest England: University of Exeter and University of Gloucestershire.
– Southeast England: University of Sussex.
Osvita company
The company offers the academic education at the British schools and universities. On a site quite impressive list of schools and higher education institutions. But about each concrete school or university it is necessary to take an interest, since the company did not place the full list.
In recent years the company helped with receipt in such universities: University of Birmingham, University of Edinburgh, Manchester Business School, Oxford Brookes University, Chelsey University of Fine Arts, etc.
Educational agency "Business-Link"
Specializes on training in England, in particular prosecutes subjects of secondary and higher education. The agency offers the clients selection of training programs and educational institutions for children and youth.
The company assumes paperwork, negotiation and correspondence with higher education institutions on behalf of the clients, holds preliminary testing and is engaged in the organization of examinations. The list of universities and schools in which the agency, very impressive helps to arrive.
Center of the international programs
Offers only the Work and Study UK program. According to this program it is possible to go to Great Britain from 18 years. Such trip allows to receive theoretical preparation in one of three training centers and practical skills of work in England. Term of participation in the program – from 12 to 40 weeks.
Company "Era of International Education"
The company offers education in England at schools, colleges, schools boarding houses and at universities.
The base package deal for the academic programs includes consultations concerning training, on visa questions, selection of educational institution (from 1 to 5) and training programs, registration in educational institution and so forth. Cost of this service – 4500 hryvnias. Cost of a full package deal – 6500 hryvnias. All detailed information on the academic programs can be found on a site or to learn in one of two offices of the company.
Company "Alec round"
It is possible to pick up the program and educational institution for receiving secondary and higher education. On a site the big list of schools and universities is specified. Besides, there is a form of selection of educational institutions convenient online for receiving the higher educatio
n abroad.
International company "Oxford Group"
The company will help to pick up school board, college or university. Clients of the company can arrive in the following universities of Great Britain: Sussex University, Surrey University, Royal Holloway University of London, Lincoln University, University of Leicester, Heriot-Watt University and so forth. And the company watches the international rating of schools, colleges and higher education institutions, specifying actual data.