status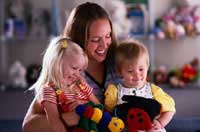 For certain, much familiarly French word "au-pair" — the governess or the nurse. If to translate literally, means «in pair» — that is the nurse and the hostess of the house who has employed it, are engaged in the house and children in common. Many young girls from the countries of Eastern Europe, wishing to get to Western Europe to teach foreign languages, at the world to look and itself to show, already visited au-pair role.
Such international educational programs on learning of foreign languages are calculated generally on a year. During stay in the environment of native speakers it is possible to master quite well a foreign language as in the program obligatory visit of courses 2-3 times a week is provided.
The prospect quite good — to live year abroad, to learn a foreign language, to travel across boundless Europe: Paris, Lisbon, Venice, Vienna, Zurich… It is necessary to work a little, only five-six hours in day. Probably, it is a little more, but no more than 35 hours per week. So it is contractual, as well as «at least one day off in week, free time in holidays and four-week holiday after 12 months of work in a family». Work is necessary not difficult: to take a walk with a carriage on beautiful park, to take away children from kindergarten or to take away on occupations, to make a breakfast and to pick up toys in the nursery.
For it also money (about 200 euros) for pocket expenses give, and the medical insurance pay, and with housing provide, and feed, and if will carry, can provide and the travel card on all means of transport, and German language courses (let and inexpensive) to pay. Having fulfilled the put five hours with the obedient German child (is more often, of course, with two-three children, and not such and obedient) — and before you the whole world calling and attracting.
So the international au-pair programs invitingly look, inviting to work young girls and guys from 18 to 25 years as governesses (or simply nurses) in the provided German families. But it is necessary to reflect: whether everything is so good, whether there is no somewhere a dirty trick. And this dirty trick waits everywhere. «The wonderful and boundless world with its possibilities» is limited to days off, and sometimes only Sunday more often.
On weekdays by five planned hours with children and easy housework three unplanned general cleanings, washings, an ironing, and in the evenings — too often repeating бебиситтинги which in the program too are stipulated, but only not four, but two times a week are added an hour more. In a word, pleasures ever less, and works are more increasing. Thus money for pocket expenses does not increase.
In Europe overflowed with legal and illegal emigrants, it is easy to find any worker, especially for unqualified work. It is enough to publish the announcement in the local newspaper, and ten calls from the people next day will be distributed, concordant to come for the whole day or at convenient o'clock for a low payment. To them the food, a separate room and an insurance would not be required at all.
What forces a family to call the person from the far-away country, assuming additional expenses? For certain it with an ulterior motive. Harmful, pathological, often mentally not quite normal children or superexacting and avaricious parents. There is that and another together. More often work in this family is so heavy and unpleasant that anybody from locals is not late for a long time.
Call of the foreigner, the unfamiliar West with life — a good way to keep the worker the maximum term. And, without payment, promising «jam for tomorrow» as the queen offered Alice in the World behind the looking-glass. The local worker if will not receive payment in a month, most likely, will leave. It is more difficult to foreigner to leave back, it will believe promises. And what remains? While he adapts and will dare to state protests, usually passes half a year. Just that term which is necessary on development of foreign speech.
If to sustain this year which in any case will pass interestingly even if and it is hard; to use time intelligently, and to make every effort to achievement desirable, it is possible and to achieve successes and goals far from the homeland. For example, to enter the university. Education in state universities of Germany the free. However anybody another and anywhere more officially cannot earn additionally, being in Germany in au-pair status. It needs to be considered at departure and to take with itself enough of money "just in case".
This program — not earnings of money, and study though to category of students of au-pair does not treat, as well as category working therefore taxes on pocket money due to you it is not necessary to pay. And this money — purely symbolical payment. Something, of course, it is possible for itself to allow, but, considering a large quantity of opening tempting prospects, entertainments, trips and purchases, 200 euros a month in the big city of Germany catastrophically do not suffice. Naturally, it is not necessary to miss chance to see the world, to study language, but it is necessary to do all this judiciously, having carefully studied terms of the contract, reliability of the firm offering work abroad, and to correlate it with the possibilities.
pro-robotu.com.ua source