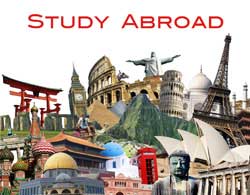 You very much want to study abroad, but sometimes you are overcome by doubts?
Here if you visited a kouching, would receive council to make the list of N of the reasons why you need to graduate outside of Ukraine.
Let's make it together.
We will call 10 reasons, and you continue this list.
The main reasons to get education abroad
1. To get advantage at employment already at a stage of consideration of the summary.
If you receive prestigious specialty, and in parallel there is a lot of life experience, living in other country, the trip behind knowledge of that costs.
2. To tighten a foreign language.
You do not talk in a foreign language since that moment how left school? Is not present? Then you have an excellent chance not only to remember everything that you learned at school, but also considerably to improve the language skills, to get rid of a language barrier.
3. To get acquainted with different people.
Someone from them can influence all your subsequent life.
4. To learn to advance itself.
Being trained in the USA or being engaged in higher education institutions of Germany you not simply receive specialty. You will get useful acquaintances, learn to advance, advance yourself the work, to communicate with clients.
In the Ukrainian higher education institutions such practically anywhere do not learn. Who knows, suddenly you will perfectly find a job abroad and will take away there the native?
5. To receive independence from native and at the same time to learn to appreciate the moments of communication with them.
6. To learn to count only on itself and only on the knowledge.
Abroad there will be no fathers and mothers, nobody will worry about you, for you nobody will make decisions. Moving abroad is an examination on independence.
7. To look at other culture the eyes, it is better to understand and experience the.
It will allow you to create the outlooks on life, on culture, on education.
8. To find new friends.
Yes, you will precisely find one friend. Even if then you will return to Ukraine, can maintain the friendly relations, visit, communicate.
9. To become the optimist, to cease to be afraid of all new and unknown.
For 1000 km from the house spontaneity and enterprise will come to the rescue more than once of you. You want – you do not want, and it is necessary to meet half-way adventures and new impressions.
10. To take advantage of students foreigners, to receive benefit from discounts for the international students.
And what benefits are seen by you from training abroad? Call the reasons to bring from there the diploma.